Packaging Equipment for Businesses of Every Size
No matter the size of your business, Loveshaw has the packaging equipment to meet your needs. As one of the leading cartoning machine manufacturers, our product line includes markers, coders, case sealers, case formers, case erectors, inkjet label printers, and more. You can trust that our equipment is among the most reliable in the packaging industry, whether you're shipping hundreds of packages a day or processing thousands in a high-volume distribution center.
Looking to streamline your packaging process and reduce labor and operating costs? Check out PackPoint, our fully integrated packaging line that comes complete with hand-packing stations. With Loveshaw, you can have confidence in your packaging and save time and money in the process.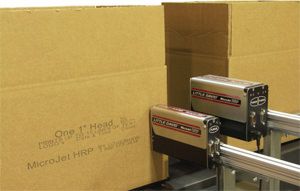 MICROJET HRP 1"
Looking for an inkjet printer that won't break the bank? Look no further than the MicroJet HRP 1". Manufactured by Loveshaw, this reliable and cost-effective printhead can print up to 10 lines of data, including alphanumerics, logos, and UPC-A barcodes, on both porous and non-porous surfaces.
With its thermal jet technology and high-resolution printing capabilities, this industrial-grade printer is packed with performance features that provide excellent value for many marking/coding applications. Additionally, the Smart Level Ink Detection System* ensures that you're always aware of your ink levels and when it's time to replace your Loveshaw ink cartridges.
The MicroJet HRP is enclosed in a stainless steel faceplate and comes equipped with built-in photo sensors that detect product speed and direction. And while ink cartridges are not included with the printhead unit, they can be purchased at the time of order or anytime after. Don't settle for less - choose the MicroJet HRP 1" Thermal Jet Printhead for all your printing needs.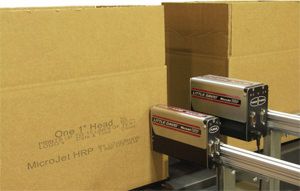 MICROJET HRP 1/2"
Introducing Little David's Rugged and Compact Cartridge-Based Printer
For top-quality printing in one and two-line marking/coding applications, look no further than the MicroJet HRP 1/2". Created by Loveshaw, this is the first in a series of industrial-grade, high-resolution thermal jet printers that delivers both quality and ease of operation.
Designed to be compact and durable, the MicroJet HRP 1/2" is housed in a sealed, industrial-grade housing with a stainless steel faceplate. It also includes built-in photo sensors that detect product speed and direction, making it a great choice for a variety of printing needs.
One of the key features of this printer is its simple, cartridge-based ink system. Changing ink is a breeze - all you need to do is lift the cover of the printhead and snap a new Loveshaw ink cartridge in place.
Don't settle for inferior printing - choose Little David's MicroJet HRP 1/2" for your marking and coding needs.