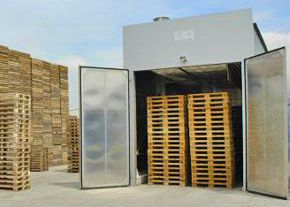 HEAT TREATING
PLM has the heat treating capabilities to meet all of your needs. Whether it's a truckload of pallets, 20 pallets, boards, crates, etc., we can provide a certified heat treated product to meet the needs of ISPM–15.
Due to international regulations, heat treatment is an increasing concern for companies using wood pallets or other types of wood packaging for their export shipping. The international export standard, ISPM-15, requires that all wood packaging be heat treated at a core temperature of 132.8 degrees Fahrenheit for a minimum of 30 minutes.
PLM, Inc. has been Certified by the Missouri Wood Forest Products Association. Our IPPC certification allows us to stamp all heat treated pallets and other products to show they are in compliance with ISPM-15. The stamp acts as the certificate and therefore no paper certificate is required.
No job is too big or too small. We have been asked in the past to heat treat a number of different kinds of wood products. Give us a call and let us show you how we can solve your ISPM-15 problem today!