Enviromental Stewardship
Utilizing companies that understand and practice Sustainability and good Eco- stewardship helps save our environment. PLM Companies partners with like-minded companies to achieve our green initiatives. Watch this short video to learn more.
PLM's Green Initiative
Every company has the responsibility to practice good environmental stewardship in making continuous efforts in reducing their own environmental footprint, and PLM is no exception! Not only do we help other businesses with their recycling efforts, but we "practice what we preach" in our own and in our supplier/partners plants. Very little that we do ends up in waste containers! We 100% recycle all corrugated, shrink wrap, wood, and scrap metal, etc., including nails, waste oil, rubber tires, office paper and more. For example, our wood scrap is automatically conveyed to a wood grinder where the wood waste is ground into a fiber, the nails extracted, and then conveyed to an overhead bin. All of the wood fiber is then sold to a local company that uses it in their landscaping products, such as mulch and compost, which is then sold throughout the region for landscaping the exterior of residential and commercial properties.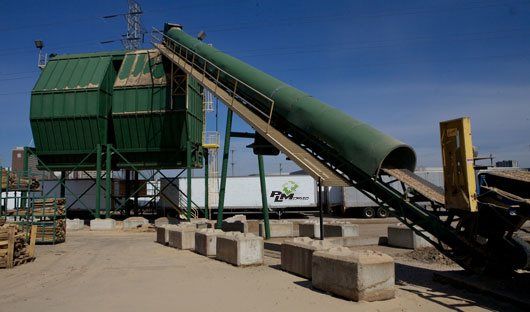 All of our employees are involved in continually looking at administrative and operations processes, seeking to reduce our impact on the environment. Whether you need help in improving your programs or are looking to find out how you can get started, give us a call and you will be off to the right start in practicing good sustainable environmental stewardship!