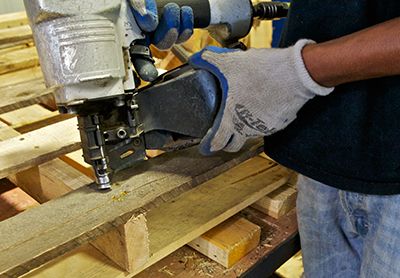 REMANUFACTURED PALLETS
A customized pallet built to your specifications. The pallet component parts can be made completely from recycled boards, or any combination of new and recycled boards that you choose. The savings is generally around 20%-30% of new.
NEW WOOD PALLETS
Utilizing our computerized design software, we can design your new pallet to fit your needs and guaranteed to meet the requirements of your unit load. Completely vertically integrated from harvesting the standing timber in the forest to the finished pallet product. Innovation and integration allows the highest quality pallet at the best possible price in the market. With our national network we can develop a new pallet program for you in the continental United States.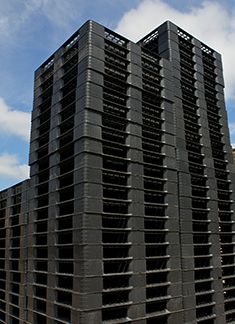 PLASTIC PALLETS
We offer both recycled and new plastic pallets. Our team has assisted many major manufacturing and distribution operations with in-house and closed-loop pallet programs. Call your sales representative or customer service today for more information.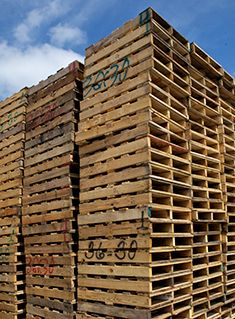 OTHER RECYCLED WOOD PALLETS
Below is a list of Other Sizes of recycled pallets that we offer. If you don't see a size that you need, call our Customer Service Representative at 800-437-7108
Pallet Dimensions
36x36
40x48
42x42
48x48
48x42
48x45
44x44
Euro Pallets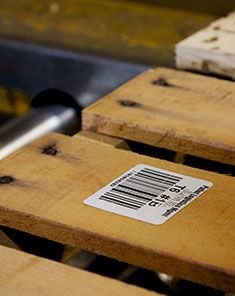 PALLETS FOR SALE? WE BUY USED PALLETS!
Are you having trouble getting paid from your pallet vendor, or are you getting an empty trailer when you need it to load your excess pallets on? Whether you have 20 truckloads per week or one truckload a year, we will pay you top dollar for all your commodity or used pallets. Problem Solved!
At PLM, we have built our success on financially sound, ethical and service-minded principals. Call us for some "long-term" references and find out for yourself!
We track every load of pallets by:
Customer
Trailer
Customer bill of lading
Pick-up date
Number of pallets on the load per bill of lading vs. the actual number counted at PLM
A complete breakdown of each grade of pallet on the load
We can supply that information to our customers in any format they request.
Worried about the security of your pallets? You won't have to when dealing with PLM! We offer trailer seals so that each return load of pallets is sealed by your management group, along with GPS tracking of our trucks in several locations to and from your location. Vendor yard open 7:00 a.m. to 3:00 p.m. M-F
Product Options
Heat Treating ISPM15
Due to international regulations, heat treatment is an increasing concern for companies using wood pallets for their export shipping. The international export standard, ISPM15, requires that all wood packaging material be heat-treated at a core temperature of 132.8º Fahrenheit for a minimum of 30 minutes.
Certification is Necessary for Compliance
Our IPPC certification allows us to stamp all heat-treated pallets in compliance with ISPM15. The stamp acts as the certificate to show the pallet has been heat-treated. No paper certificate is required.
Stenciling
We can provide stenciling on the stringer.
Paint Stripping
We can color-code your pallets with a paint stripe.
Banding
Metal or plastic banding in any configuration you would like.
Drop Trailer Programs
Rather than live unloaded, we can drop our trailers on your lot and you can unload them on your time. Let your salesperson know if you wish to take advantage of this program.