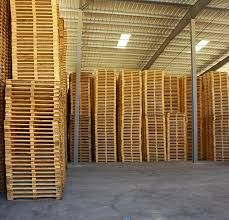 NEW WOOD PALLETS
Utilizing our computerized design software, we can design your pallet to fit your needs and guarantee they meet your requirements. Our business partner is completely vertically integrated - from harvesting the standing timber to the finished pallet product. Innovation and integration allows us to offer the highest quality pallet at the right price. With our national network we can supply you with new pallets anywhere in the United States. Call us today to learn more!!!
Product Options
Heat Treating ISPM15
Due to international regulations, heat treatment is an increasing concern for companies using wood pallets for their export shipping. The international export standard, ISPM15, requires that all wood packaging material be heat-treated at a core temperature of 132.8º Fahrenheit for a minimum of 30 minutes.
Certification is Necessary for Compliance
Our IPPC certification allows us to stamp all heat-treated pallets in compliance with ISPM15. The stamp acts as the certificate to show the pallet has been heat-treated. No paper certificate is required.
Stenciling
We can provide stenciling on the stringer.
Paint Stripping
We can color-code your pallets with a paint stripe.
Banding
Metal or plastic banding in any configuration you would like.
Drop Trailer Programs
Rather than live unloaded, we can drop our trailers on your lot and you can unload them on your time. Let your salesperson know if you wish to take advantage of this program.