Cushioned, Reinforced & Rigid
PLM Companies is proud to distribute Jiffy Mailer® Products manufactured by Sealed Air. Sealed Air is the inventor of Bubble Wrap and their products have been recognized as the standard of excellence for quality for over fifty years.
Jiffy Mailer® Products represent the most complete line of cushioned, non-cushioned and rigid protective mailers available. Beyond protecting your products, Jiffy Mailer® Products can provide additional value, such as band recognition and an enhanced perception of quality, through custom printing of logos and messages in up to eight colors. These mailers are used by a wide variety of small parcel shippers, such as: mail order, fulfillment, publishing, computer and electronics, automotive, audio and video, office supply, parts distribution, pharmaceuticals, premiums and incentives, health and beauty, e-commerce, and graphic arts.

Premium Jiffy® TuffGard® and TuffGard Extreme™ Mailers Deliver Maximum Performance!
Tough and durable multi-layer coextruded film resists moisture, punctures and tears.
Laminated film/air cellular material increases overall stiffness and bursting strength
Barrier Bubble® layer (3/16" for Jiffy® TuffGard® and 5/16" for TuffGard Extreme™ mailers) offers maximum air retention and cushioning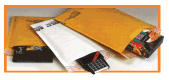 High Quality JiffyLife® Mailers Add Up To Great Value!
3/16" Barrier Bubble® layer offers maximum air retention and cushioning- lightweight for postal savings
Seamless bottom increases protection and strength
Fully laminated construction provides stiffness and High-slip air cellular lining facilitates insertion
Standard colors of kraft are satin gold (100% recycled) and white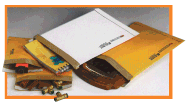 Rugged Jiffy® Padded Mailers (the original) Remain The Benchmark!
Heavy-duty construction with uniform inner batting (padding) provides excellent cushioning.
Satin gold kraft had a premium look. Also available in white.
Double-fold and double-glued bottom flap add corner/edge protection and strength
Smooth inner liner and pre-scored flap ease insertion and closure
Tear Tape (mailer sizes 1-7) facilitates opening. Available in self-seal or regular closure-saves labor.

Durable Jiffy® ShurTuff® Mailers Withstand Today's Tough Shipping Environment!
Proprietary multi-layer film is puncture, tear and water resistant
Smooth, opaque inner layer assures security while easing product insertion.
Self-seal closure is tamper resistant and saves labor.
Perforated strip makes opening easy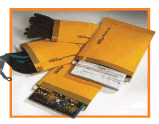 Heavy Duty Jiffy® Utility Mailers Offer All-Purpose Protection!
Stiff, double wall kraft guards against tears and punctures adding to overall strength.
Seamless sides and double-glued bottom provide extra security
Double-fold top and bottom construction protects corners and edges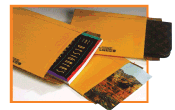 Extra-Rigid Jiffy® Rigi Bag® Mailers Provide Superior Corner and Edge Protection!
Kraft-laminated fiberboard construction prevents movement of contents and resists bending, folding and creasing
Satin gold kraft has a premium look.
High strength, cohesive self-seal offers fast and secure closure while tear tape facilitates opening
Application Guide and Size Charts
Jiffy® Mailers are designed to be a cost efficient alternative to corrugated cartons by reducing shipping cost, reducing labor costs, and reducing inventory requirements. Please use the below application guide and size chart to determine which of these mailers would be right for you.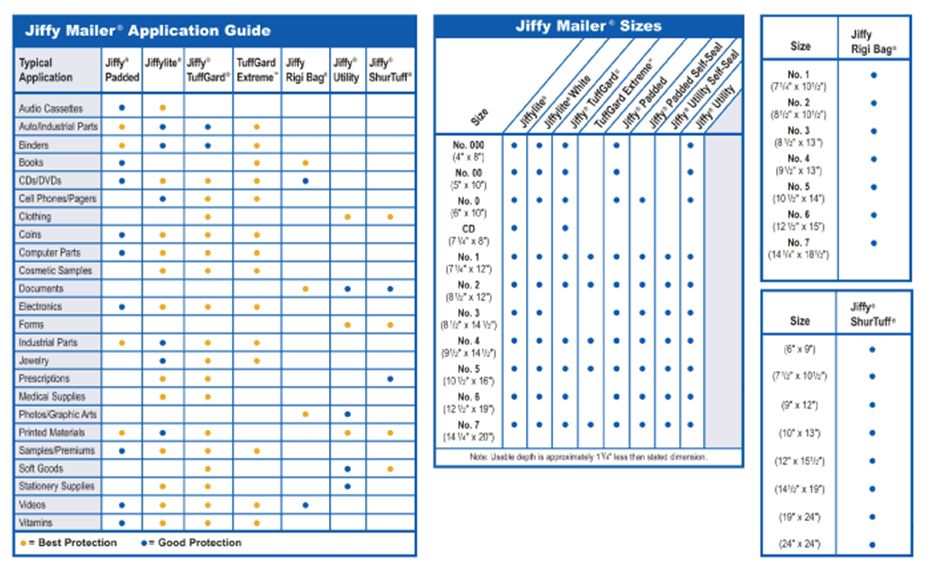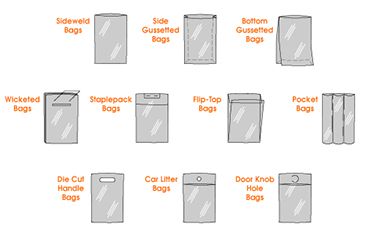 Standard Poly Bags
Plain flat and side-gussetted polyethylene bags are the basic bags used for packaging. Many are FDA grade, approved for food contact. They can be manufactured from a variety of polyethylene resins and resin blends to provide the most economical bag for specific applications. Sizes can be as small as 2" x 2" or large enough to enclose large pallets of material or cover large pieces of machinery. (See FAQs for more Information)
In addition to standard flat and side-gusseted bags, other constructions are available, such as bottom-gusseted bags, bags with lips, bags with fold-over tops, bags with comportments or pockets. etc. Bags may be available as individual bags, as bags on rolls, as wicketted bags, as bags on staple packs, and more. As they are manufactured, many of the poly bags can be printed with anything from simple text to photographic quality images.
We have thousands of sizes, gauges, and styles of poly bags available. Contact us for your specific needs.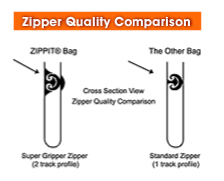 Re-Closable Bags
Our Zippit® reclosable bags offer clear advantages to you....
The white zipper on our stock bags quickly identifies the location of the zipper and enhances the bag's appearance.
The wide white zipper on our stock bags, combined with the two-track profile of the zipper, provides a more secure closure that remains easy to open.
Gripper lines on the lip of our bags make them easier to hold.
Standard Zippit® bags are packaged in a "tissue style dispenser bog. They are tidy for storage, yet it's easy to pull out one bog of o time.
Other bags for specialty uses are also available. such as optical Zippit®l bags, medical Zippit® bags, and 3-compartment Kangaroo` bags. If a standard bag isn't available that fills your needs. we can create a custom bag to your requirements.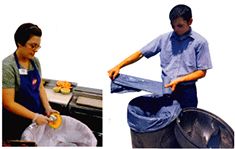 Trash Can Liners
We carry a wide variety of plastic trash can liners. Bags are available in many different sizes, strengths, materials, and colors and may be folded or on rolls. The development of high performance resins and improved manufacturing techniques has made bags stronger while they have become thinner. In addition to lining trash and waste receptacles, bags can also be used to contain powders or other materials in cartons or drums, as dust covers, for surface protection, or to solve a myriad of other problems. Let us help you... we have bags available for almost any conceivable use.
While the range of liner sizes, gauges and types can be overwhelming, choosing the correct liner is normally as easy as 1-2-3.
1. Determine the proper material (resin) for your application. The two most commonly used materials are Linear Low Density (LLDPE) and High Density (HDPE). LLDPE offers good puncture resistance and should be used if you have sharp objects in your trash. HDPE is more cost effective if your trash is soft and unlikely to poke through a bag.
2. Determine the correct size. Many trash containers have the gallon size printed right on the container itself. If you don't know the container capacity, use the method outlined in question #2 "How Do I Determine Correct Bag Size?' in the Poly Bag FAQs.
3. Determine how much weight the liner will need to hold. Don't forget to allow for the extra weight if you have wet trash.
In some situations you may have additional requirements, such as FDA grade bags or bags printed for medical waste or colored bags to obscure the contents or anti-static bags, etc.
Once the answer to these questions is known, contact us for the exact liner you need!