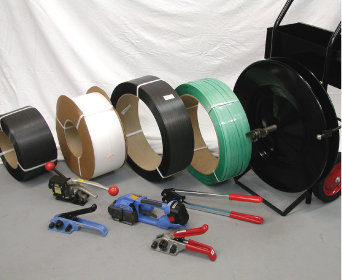 Plastic Strap
We offers a complete line of non-metallic (plastic) strapping, as well as associated tools, accessories. strapping machines, and machinery and tool parts. We offer polypropylene, polyester and polyester cord strapping in different widths, core sizes, colors, and break strengths. We have a complete line of Signode® equivalent strapping as well as specially products such as low elongation and high tensile strength plastic strapping.
Plastic strapping is ideal for light and medium weight bundles and pallets and is relatively inexpensive compared to steel strap. It is safer to use than metal and will not rust. St. Louis Paper & Box has a working knowledge of strapping and equipment. Let us help you choose the best product for your application.
Our polypropylene strap is lightweight and inexpensive. It can be used to close cartons, unitize pallets or bundles. and combine boxes for UPS savings. A wide range of tools and machinery will help increase your productivity.
Our polyester strap is best suited for medium and heavy duty applications. It is the most rigid plastic strap and is frequently used to replace more expensive steel strap. Polyester strap stretches significantly less than polypropylene and retains tension over a longer period. It offers the greatest strength and split resistance of any plastic strapping. Polyester strapping is available in both hand and machine grades for manual, semi-automatic or automatic applications.
Our polyester cord is a unique strap of continuous twisted filament polyester yarn bonded with a special adhesive to form a flat pliable strap. It is recommended for outdoor applications or in-plant movement of products. It can be tied like a rope or hand tensioned using metal or plastic buckles. Strong, flexible and easy on the hands, it has a wide range of uses.
It is important to match the correct strap, tools, and seals to your specific application. Please keep in mind that the tools and seals designed for non-metallic strap are not for use with steel strapping, and vice versa. Be safe! Let our packaging professionals help you choose the right products.
All of our plastic strap is MADE IN THE USA.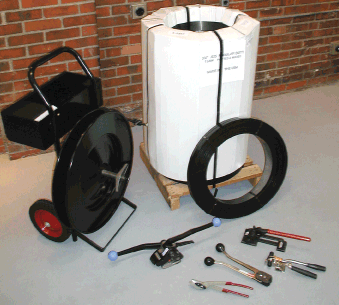 Steel Strap
We offers three types of steel strapping, Regular Duty, High Tensile, and Stainless Steel, all made in the USA. The particular type of strap best suited for your application will depend on the strapping's purpose or function, the package or load characteristics, and the shipping and handling considerations.
Steel strap is ideal for heavy weight bundles or bales, non-compressible loads of lumber or metal, and loads with sharp corners. Steel strop is dimensionally stable under normal conditions and does not creep or stretch. Knowing what you are trying to accomplish, your St. Louts Paper packaging professional can help you choose the best strap for you.
Our Regular Duty Strapping is a cold rolled 5% carbon strapping and is available in a variety of widths and strengths to satisfy the majority of standard packaging requirements.
Our High Tensile Strapping is a cold rolled 30% carbon steel strapping that has been heat-treated to provide high strength and excellent shock resistance for more critical or extreme applications.
Our Stainless Steel Strapping is a high tensile, chrome nickel strop with smooth edges. designed for prolonged outdoor exposure. Its primary use is mounting commercial and municipal signs and signals. Stainless steel strap is packaged as individually boxed mini-coils for ease of use in the field. Stainless steel strap is 3/4" wide and is available in thicknesses of .020 (200 ft/box), .025 (100 ft/box), and .030 (100 ft/box). A complete line of complementary stainless steel accessories is available.
It is extremely important to properly match the correct tools and seals to the strap being used. Regular and high tensile strapping require different tools and seals for safe, secure sealing. Also, the tools and seals for steel strap are not designed for use with non-metallic (plastic) strapping, and vice versa. Be safe! Ask your packaging professional for help in choosing the proper tools and seals.
All our steel strap is MADE IN THE USA.