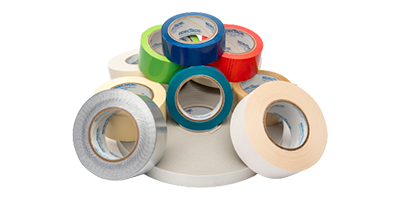 Tape Solutions
There are thousands of applications for tape. Some can be very specialized and others can be very general. Either way PLM Companies proudly represents the major tape manufacturers and therefore whatever your application, we can provide the proper tape. We also stock a wide variety of popular tapes in many different sizes (see below).
Pressure Sensitive Tapes are the most commonly used in the packaging industry and we are continually expanding our in-house supply. Please contact us for help in determining the best tape for your application.
Paper Masking Tapes are available for commodity, general purpose and special purpose uses. Most masking tapes are crepe paper that stretches a little to conform to surfaces with bends and irregularities. Flatback (non-crepe) tapes are available where low elongation is desired. Masking tapes are usually off-white or cream colored, but various colors are available in some grades. Certain grades of both crepe and flatback tapes may be printed.
Strapping Tapes may be either filament reinforced or tensilized polypropylene (TPP), with filament being the most common. TPP is most suitable for bundling and pallet stabilization, where moderate tensile and adhesion are advantageous. Filament strapping tapes are usually polypropylene films with fiberglass reinforcing strands. Because of the fiberglass strands, filament tapes have almost no elongation or stretch and can have tensile strengths of over 300# per inch of width. Filament tapes are used for closing and reinforcing, L-clip sealing, bundling, and palletization. For certain specialty applications, bi-directional and paper bucked tapes are available.
Carton Sealing Tapes are generally film tapes with one of three different types of adhesive coatings. Hot melt adhesive coatings are generally the least expensive and are suitable for most applications. They are most effective when applied between 45° F and 100° F. Acrylic adhesive backed tapes are better for more extreme temperatures, from 32° F to 140° F, or where long term high clarity is important. In addition to working in at temperatures from 0° F to about 150° F, natural rubber adhesive systems have aggressive quick tack and outstanding shear strength, making them suitable for difficult carton sealing applications. Each of the three adhesive systems is available in a variety of tensile strengths. Clear tape is the most widely used, but tan is also available in all grades.
Cloth Tapes most commonly referred to as duct tapes. Duct tapes are cloth tapes with a polyethylene coating and a very aggressive adhesive system. Many different grades are available in both the standard silver and in various colors. Originally used for sealing ductwork in heating/cooling/ventilation systems, the uses of duct tape are now almost limitless.
Double Coated Tapes are just what the name implies, a substrate of some type with adhesive on both sides. Adhesives can be almost as permanent as a weld or as removable as a sticky note. The carrier can be as thin as tissue paper or can be foam that is 1/2" or more thick. There are literally thousands of adhesive and carrier combinations available to solve specific problems.
Plain Paper Tapes are made from a high grade Kraft paper with a water-activated adhesive on one side, 2-1/2" and 3" wide medium duty (60# basis weight paper) tapes are most commonly used for carton sealing.
Reinforced Carton Sealing Tapes have a tri-directional pattern of fiberglass yarn bonded between two layers of the Kraft paper, 2-1/2" and 3' wide reinforced tapes are available in a number of different strengths depending on the weight of the carton being taped and how it is to be handled and shipped.
Green Wave Reinforced Water Activated Carton Sealing Tape has been developed in response to the global demand for a more environmentally responsible gummed tape. Green Wave is manufactured with more eco-friendly materials using an energy conserving process. The paper, adhesive and laminate are all repulpable, recyclable and biodegradable. No petroleum based materials are used in the tape. Green Wave tape in 72mm x 450' rolls, packed 10 rolls per carton. Other sizes are available upon request.
Plain and reinforced water activated tapes may be custom printed. Manual and electric tape dispensers are available to meet your requirements as well. In addition to the above we also carry vinyl tapes for aisle marking and various identification uses, Teflon coated fiberglass for packaging machinery, metal foil tapes for electronics and decorative uses, and a host of other specialty tapes for general or specific uses. Get a Quote Today!